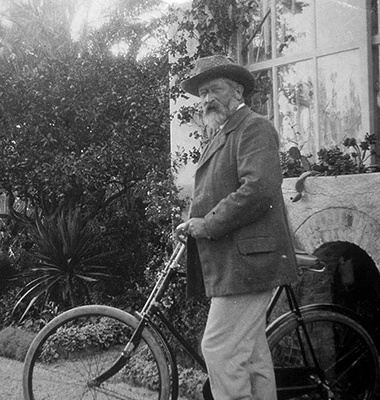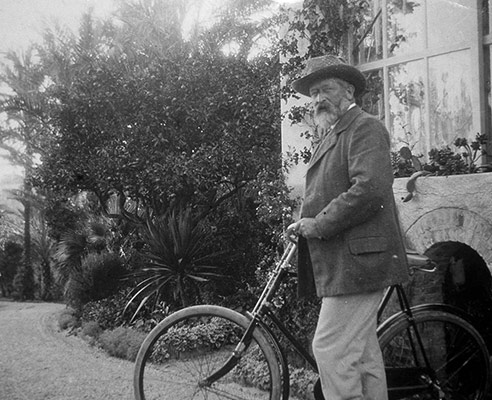 Born in London in 1842 under the reign of Queen Victoria, he is the 13th child of Elhanan Bicknell, whale oil magnate.
Clarence pursued his studies at the University of Cambridge, where he became interested in religion and became an Anglican pastor.
After several years of devout life at the service of others, he decides to travel the world. He visited Sri Lanka, New Zealand, Morocco, … until his journey back to England made him discover Bordighera on the Italian Riviera.
Enchanted by the places, he decides to settle there and finally abandons religion at the age of 36 years to devote himself to the study of botany.
The floral richness of the Mediterranean Riviera becomes a wonderful source of inspiration and allows him to flourish fully through his love for flowers. He began to collect the plants which he discovered on the riviera and the surrounding mountains, to dry them in his herbarium as a specimen, and then to paint them meticulously in watercolor. After five years, Clarence had painted more than a thousand watercolors of the local flora. This allowed him to publish his first book in 1885 entitled "Flowering Plants of the Riviera and Neigbouring Mountains".
His undeniable preference for wild plants led him to seek higher and higher species on the nearby mountains of the Riviera. It was in 1905 that he embarked on the project of building a summer house in Casterino, on the valley of Fontanalba. The "Casa Fontanalba" will become a privileged place for its botanical excursions. He will receive many scholars and friends who collaborate with him on botany.
It was during his botanical expeditions that he discovered the first prehistoric engravings dating back to 3000 BC. Which are now the fame of the Valley of Wonders.
The legacy of the work of botanist Clarence Bicknell is now preserved in the museum dedicated to Bordighera and the Cambridge Museum.
The Casa Fontanalba, which he decorated entirely with floral paintings, remains a testimony to his fascination for this magnificent region with its unique natural resources. It was a great source of inspiration for the creation of Eudoxia cosmetics.